Gunakan CHROME dan Bersihkan Cache,History dan Cookies browser terlebih dahulu sebelum Streaming. Dan Tunggu 5 sampai 10 detik untuk loading Player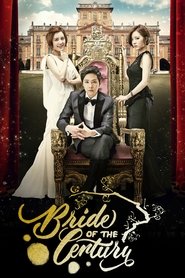 Bride of the Century (2014)
Download Drama Bride of the Century (2014)
Berbicara tentang drama yang berkualitas, Anda bisa merujuk pada Bride of the Century (2014). drama yang diproduksi sekitar tahun 2014 ini tidak akan mengecewakan Anda jika Anda ingin menontonnya.
Alur cerita yang diusung drama ini sangat menarik. Anda akan dibuat kagum dengan peristiwa demi peristiwa yang dibangun dalam sebuah alur yang tidak biasa.
Bahkan rasa penasaran Anda karena alur yang dibeberkan dengan seni yang tinggi "memaksa" Anda tidak melewatkan sedikit saja drama ini dari mata Anda.
Unduh drama Bride of the Century (2014) sub indo
Jaminan kualitas sebuah drama ini juga bisa Anda lihat dari negaranya.
Bride of the Century (2014) berasal dari Korea, yang merupakan salah satu negara penghasil drama bermutu.
Jika menyebut nama negara ini pikiran Anda langsung tertuju pada seni sinema yang mengagumkan, yang mengharumkan nama dunia film di seluruh dunia.
Tidak bisa dimungkiri juga, Korea memang jadi rajanya drama berkelas.
Lebih dari itu, negara yang terkenal dengan drama bermutu ini juga mempunyai banyak bintang film terkenal, yang tentu tidak asing lagi dengan Anda.
download Bride of the Century (2014) sub indo
Drama Korea "Bride Of Century" bercerita tentang tentang keturunan keluarga kaya raya Taeyang Group, yang katanya terkena kutukan sejak 100 tahun yang lalu. Diceritakan bahwa semua istri pertama dari pria penerus keluarga akan meninggal di malam pernikahannya, dijadikan tumbal untuk roh penjaga keluarga.
Masalah muncul saat Choi Kang Ju (Lee Hong-gi) anak laki-laki pertama Taeyang Group akan dinikahkan dengan Jang Yi Kyung (Yang Jin Sung), putri dari perusahaan besar lainnya. Namun Yi Kyung dan Kang Ju tidak saling cinta, mereka akan dinikahkan untuk alasan memperkuat bisnis kedua belah pihak. Tapi, tiba-tiba Yi Kyung menghilang entah kemana, dan keluarga Yi Kyung terpaksa diam-diam mencari pengganti putri mereka yakni. Tiba-tiba kakak Yi Kyung yang bernama Yi Hyun (Sung Hyuk) menemukan seorang gadis yang sangat mirip fisiknya dengan Yi Kyung, namanya Na Doo Rim (Yang Jin Sung), gadis miskin yang sehari-hari bekerja mencari hasil laut dan mengelola restoran seafood bersama neneknya.
Dan jangan lupa Silakan like dan share di media sosial untuk memberi semangat dan dukungan kepada kami dalam menyajikan Drama Terbaru Sub Indo.